As Out-of-Pocket Costs Go Up, Individuals More Likely to Shop for Health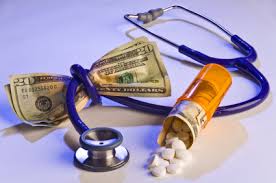 BRENTWOOD, Tenn., Nov. 3, 2014 /PRNewswire/ -- Research conducted by Change Healthcare and published today in the whitepaper "Higher Out-of-Pocket Costs Drive Healthcare Consumerism" confirms what experts have long presumed: As out-of-pocket costs go up, so does the likelihood that individuals will shop for value-based care. The healthcare consumer engagement and cost transparency company looked specifically at the relationship between deductible amount and consumers' willingness to engage in healthcare – analyzing user data from three very diverse clients, including a retailer, a manufacturer and a financial services company.
"Our study looked at employee engagement relative to plan design – across two PPOs and six high-deductible health plans – and out-of-pocket costs, including deductible, co-pay and co-insurance," said Change Healthcare President and CEO Doug Ghertner.
"What we found is that healthcare costs and consumer engagement are directly related – as employees are faced with greater responsibility for the cost of care, they are more likely to shop for medical and pharmacy services. There were statistically significant differences between engagement index scores for employees with lower out-of-pocket plan designs and those with higher out-of-pocket plan designs. Those with higher out-of-pocket plan designs had consistently higher engagement scores across the three clients."
According to Ghertner, Change Healthcare measured engagement by tabulating and weighting specific actions taken within the Change Healthcare Engagement Platform, including updating user preferences; completing savings thresholds; utilizing the tool; and login activity. Across all client groups, employees with higher out-of-pocket costs engaged more frequently and in more meaningful ways with the transparency tool.
"It's important to understand the correlation between cost and consumer engagement, especially when you consider that more than 80% of employers will offer a CDHP option in 2015 – and 30%-plus will offer only a CDHP," Ghertner added. "For plan sponsors considering such moves, transparency tools will prove critical, as they support employee/member satisfaction and retention, as well as population health and cost containment.
For more information on Change Healthcare's study, download "Higher Out-of-Pocket Costs Drive Healthcare Consumerism."